Over time, the call centrehas become an increasingly important tool for the performance of organisations. But with the development of digital technology, the call centre is changing. It is becoming a privileged point of contact between a company and its customers, or between an administration and its users. From being a simple "call centre", it is now tending to become a real contact centre, at the heart of marketing and communication strategies. But what exactly is a call centre? What are the benefits for your organisation and which formula should you choose? And how can you integrate the call centre into your strategy to make it a true customer relations centre? Answers.
What is a Call Centre?
A call centre, as the name suggests, is used to centralise the incoming and/or outgoing calls of a company.
Its main objective is toimprove customer relations or relations with the users of a service.
In order to function, the call centre is necessarily made up of :
-Operators: physical (or sometimes virtual) persons called "agents", who are in charge of receiving and/or transmitting telephone calls;
- A dedicated IT and telematics infrastructure to manage the calls: call software, voice servers, etc.
A distinction is generally made between
- Inbound call centres, specialised in receiving calls; they are used in particular for customer services such as after-sales service, technical assistance, consumer information (toll-free number), etc. ;
- Outbound call centres: specialised in the transmission of calls; they are used for prospecting, commercial canvassing, telemarketing, etc. ;
- Mixed or multi-purpose call centres: these platforms are able to handle both inbound and outbound calls.
Finally, a call centre can be integrated and managed directly by your organisation. It can also be delegated or outsourced to a specialised third party.
What services can be provided by a Call Centre?
This will depend on the nature of your activities and therefore your needs. 
In any case, a call centre will provide you with many features and facilities.
These will enable you tooptimise the relationship with your existing customers and to convert your prospects more easily.
For example:
Inbound information and sales:

answering incoming requests from your prospects or customers about your product and service offers, informing your users, making sales appointments, etc.
Customer service and support:

Keeping your customers informed about their orders;
Technical assistance, after-sales service :

for technical support, after-sales service or product assistance;
Commercial prospecting

The aim of this project is to enable you to contact your customers and prospects in an efficient, rapid and appropriate manner.
In all cases, the call centre will play a vital role in acquisition, retention or loyalty of your customersor in the information and follow-up of your users or your constituents.
Indeed, according to a BVA study : 78% of customers contacted a customer service in 2020 and that 88% of French people are influenced in their purchasing decision by the quality of customer relations!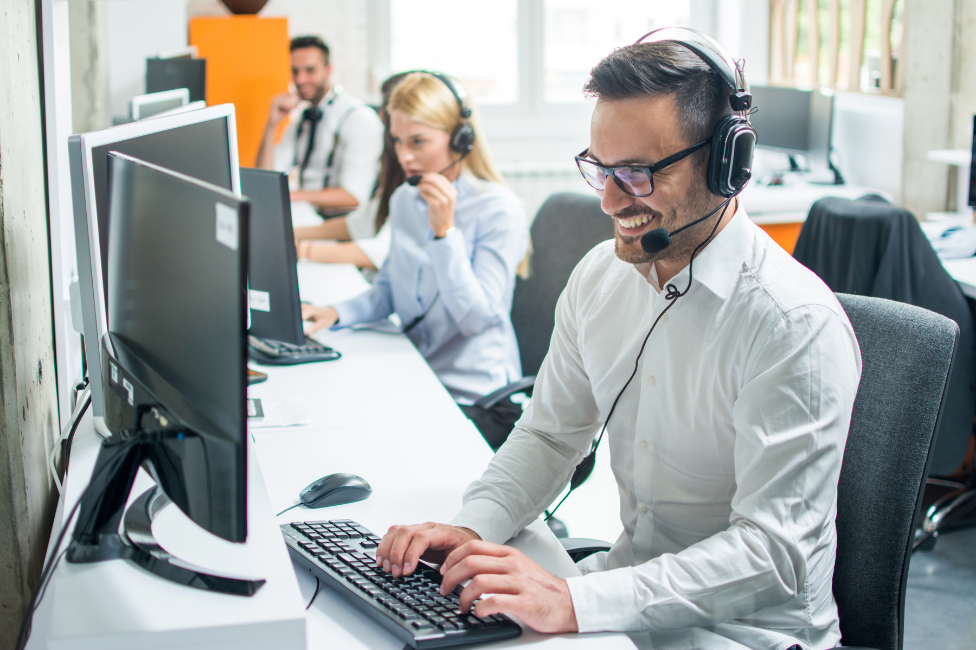 How to choose the right formula for your call centre?
Let's start by dispelling a common misconception. No, telephone centres are not only for large companies or the private sector! or the private sector!
From start-ups to SMEs and small local authorities, any type of organisation, regardless of its size, can benefit from the services of a call centre.
And for this there are many formulas, the costs of which will increase:
Outsourced and shared call centres: the call centre is shared between several companies;

Outsourced call centres, but here exclusively dedicated to your organisation; 

In-house call centre solution, not outsourced.
Of course, the last two solutions are better suited to entities that have the technical and financial means to deploy large platforms.
Setting up and managing a call centre within your organisation, or outsourced to a third party operator such as ideliomust be carefully thought out beforehand
It is therefore necessary to : 
Define the objectives and expected results, 

Budgeting costs....

And, depending on this, to select the most suitable technical (telephony, CRM, etc.) and human solutions.
Another important point will be to choose the type of call centre: inbound calls, outgoing calls or mixed. This choice is not without impact because the technical solutions to be implemented will not be the same depending on the type of call.
How to integrate the call centre into your marketing strategy?
There are now multiple points of contact with the customer or user.
Thus, many channels coexist: e-mail, chat, messaging, SMS, social networks, etc.
But in the digital age, customers value the opportunity to have human contact with an advisor who can answer their questions. And the user experience is more than ever a vital issue for an effective marketing strategy and customer relationship.
At idelio, the call centre has thus become a real contact centre. Hence the interest that your company may have in investing in a strong and efficient customer relationship by integrating a call centre.
Placed at the heart of your strategy, the contact centre, with highly versatile operators, is capable of responding to all interactions: emails, chat, social networks, in addition to contact by telephone, or conversely, very specialised (e.g. receiving calls only).
Finally, as you are now used to with your other marketing tools, it is now easy to measure your return on investment (ROI) and the performance of your call centrethanks in particular to the the implementation of relevant indicators (KPIs).
idelio, the operator that improves your customer relations
As we mentioned above, the call centre is today a tool that is easily accessible to all types of organisations, whatever their size, their activities and their budgets.
Idelio, the customer relations specialist, offers you flexible, low-cost outsourced call centre solutions thanks to its packaged formulas.
The call center by idelio is :
- an incomparable saving of time,
- performance monitoring thanks to the implementation of dedicated indicators (KPIs),
- for an optimised customer relationship.
And for more specific needs, idelio can of course offer you a 100% customised solution.
Any questions? 
Want to know more? 
Any particular request?